How to sandbag
Read below to find out how to build a sandbag wall and where to get sandbags and soil.
Safety
Remember to stay safe when you build your sandbag wall. When building your wall, you should:
use proper lifting techniques when carrying sandbags - a filled sandbag can weigh up to 20kg
remember sand is heavier when wet
wear gloves and eye protection
use rubber gloves if you're coming into contact with storm water.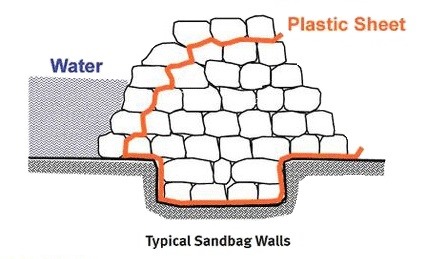 How to build a sandbag wall
The sides of your sandbag wall must be sloped inward with the base set on firm ground.
Do not build your wall higher than 1.5m. It should be four-times higher than at the widest part.
Key into the ground one sandbag deep and two wide with plastic sheeting threaded through the layers. Do not put sheeting on the outside of the wall.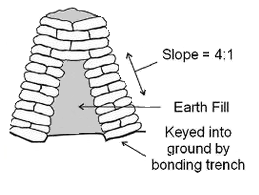 When you build your sandbag wall
A tamped sandbag is about 150mm high x 250mm wide x 500mm long.
Bags should be filled to two-thirds full - about five or six shovels full. A properly filled sandbag weighs 18kg.
Lie the bags in a horizontal course of headers and stretchers. Start and finish the wall with headers and stagger joints in adjacent courses.
Do not place bag necks or side seams on the outer face of the wall. When each bag is in place, beat it into shape with a pick handle or similar tool.
Tie the necks for transport only. Untie and flatten the necks under the next sandbag.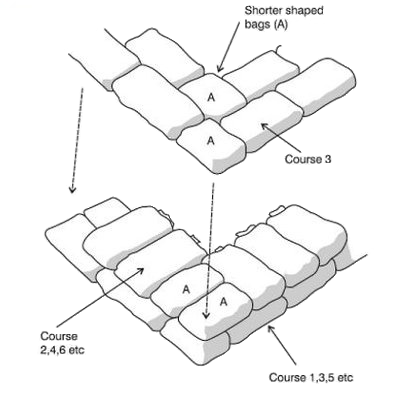 Where to get sandbags and soil
| Darwin supplier | Sandbags | Sand or soil supply |
| --- | --- | --- |
| Atom Supply Darwin | Yes | No |
| Avanti Landscaping Supplies | No | Yes |
| Barnyard Trade | Yes | No |
| Bob Kerr Transport | No | Yes |
| Bunnings | Yes | Yes |
| Landmark | Yes | No |
| U-Cart Concrete | Yes | Yes |
| Alice Spring supplier | Address | Phone number |
| --- | --- | --- |
| Territory Rural McPherson | Corner of North Stuart Hwy and Basso Rd | (08) 8953 425 |
| Alice Springs Sand Supply | 44 Priest St | (08) 8953 4466 |
| APJ Concrete | | (08) 8953 1339 |
| Centre Landscaping Supplies | Lot 5776 Ross Hwy | (08) 8952 4839 |
| Holicon | 37 Priest St | (08) 8952 1633 |
| North Concrete (NT) | 5 Shirley Crt | (08) 8953 2811 |
| Quarry | North Stuart Hwy | (08) 8952 3247 |